Stylish & Stress Free Christmas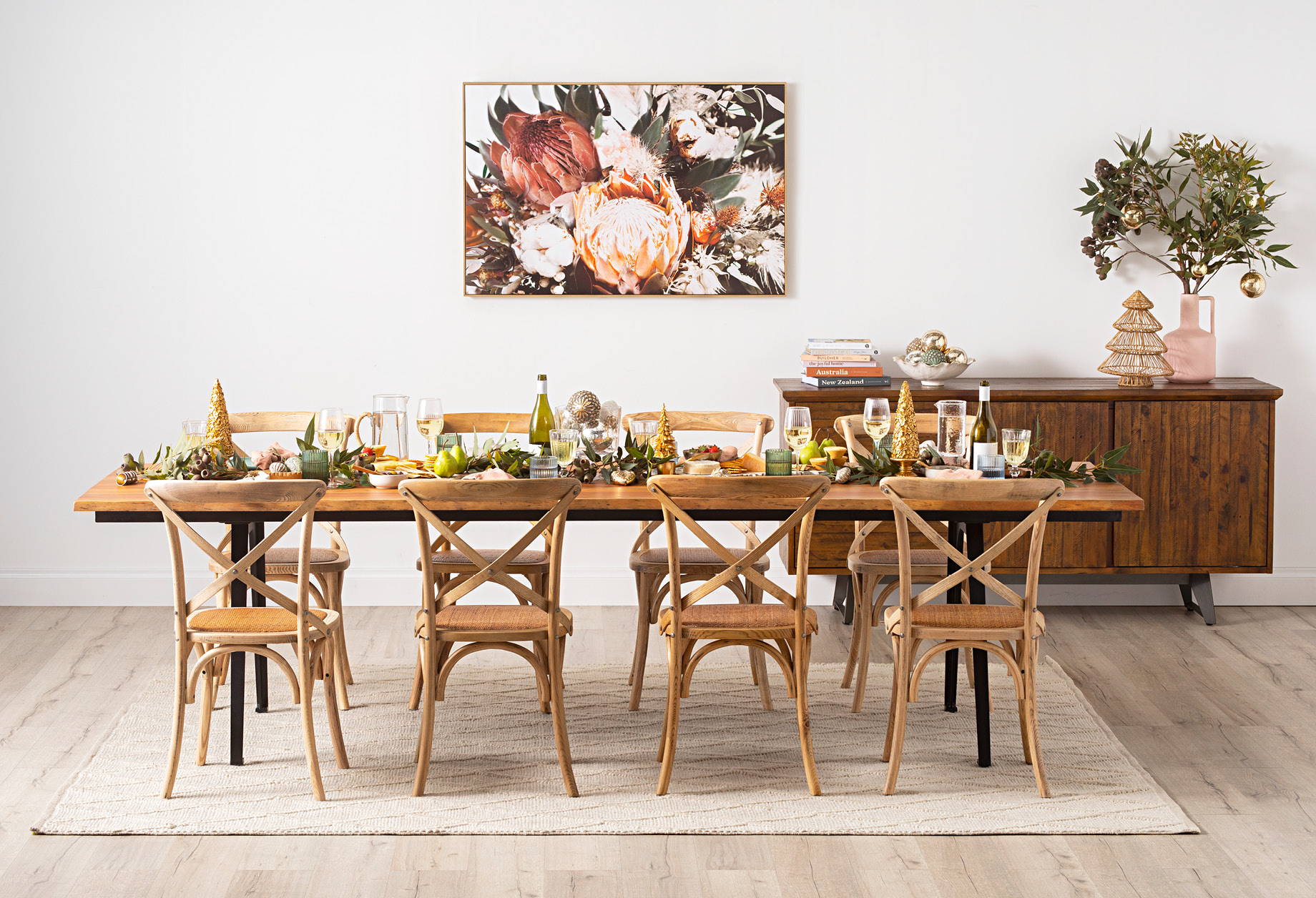 Holiday Hosting Made Easy
So you're hosting Christmas lunch this year and want to be perfect? Don't let the festive season leave you frazzled and desperate for it to be over. We've got 5 tips for a stylish and stress-free Christmas to take the pressure off the big day.
Pulling out your box of Christmas decorations every year is so exciting. Teeming with family heirlooms and Christmas crafting projects from the kids, it's tempting to hang every single item from the Christmas tree and ceiling beams. But just because each decoration is precious doesn't mean they all have to be put on display every single year. For a chic Christmas theme consider contemporary Christmas colours for your decorations and table setting. Sage green, sea blue and pale pink are very popular this year.
If you're the crafty type, you could also print your own bunting or make a floral Christmas wreath to give your festive finishes a personal touch (and keep the kids busy!).
Whether you prefer a casual summer Christmas lunch of cold meats and prawns, or a traditional Christmas dinner with roast turkey all the trimmings, organisation is key. Carefully plan a menu from platters and appetisers to entrées and desserts. Calculate the number of guests and portion size so you can create a shopping list. (HOT TIP: Order online to avoid the Christmas crowds!).
If you have a large gathering, don't be afraid to delegate dishes. The day should be about relaxing and celebrating, not slaving over a hot stove and many hands certainly make light work when it comes to preparing a feast. Prep as much as you can ahead of time so the day unfurls without a hitch. And don't forget to stock up drinks — from champagne and eggnog to soft drinks and coffee.
Looking for menu inspiration? Check out these chef-created Christmas recipes and cocktails:
Have the plates, napkins, cutlery and glasses all set out ahead of time to set the scene and have your table lunch-ready. Stack up the appetiser plate, dinner plate and salad bowl for each setting (rather than placing them separately) to add a little formality and festivity. A plain white table setting is a timeless choice for Christmas, as it can be dressed up with napkins, candles, a floral arrangement and decorative centrepiece.
Alternatively, bring your contemporary colour palette to the Christmas table with soft muted tones and a little bit of bling with a touch of metallics. Add a bauble or two to each plate with a name place-card to make the setting extra festive.