How To: Choose The Right Rug Shape
Whether your home has floorboards, laminate, tiles or even carpet, nothing has the power to pull a room together like a fabulous rug. Not only does a rug frame and anchor a space, it adds warmth, texture, style and feels great underfoot.
An essential finishing touch, it's not surprising that the rug scene has grown exponentially over the last decade. From different weaves and textures to colours, sizes and shapes, there is seemingly infinite choices in rugs. And while there are no set rules when it comes to choosing a rug's shape, there are plenty of worthwhile things to consider.
Rectangle
As the most traditional, time-honoured shape, rectangular rugs complement just about any room or setting. A rectangular rug is the best choice for pairing with a rectangular-shaped dining table or traditional lounge room settings. For instance, where you have two large sofas paired, or one large sofa paired with two occasional chairs, a rectangular rug lends symmetry to a space. Just make sure that your rug is at least 15 centimetres wider than your sofa on both sides and the general rule is that you place only the front legs of your sofa on the rug.
Rectangular rugs can look super stylish underneath a dining table but just make sure that you leave at least 60 centimetres around the table to allow people to pull their chair out without catching a leg on the edge of it. Likewise, a rectangular rug works well in the bedroom – run it under the bed's entire footprint or place one horizontally, stopping short of your bedsides, for a more modern look.
The larger the rug, larger the room will feel.
Round
A much more playful, fun choice, a round rug can add real character to a space – its soft curves are brilliant at breaking up the many straight lines found in modern homes.
Ideal for small spaces (again, they can make them feel bigger), round rugs also great inside a playroom, living space or study. A wonderful complement to living areas too, a circular rug looks fabulous under a round coffee or dining table. This is particularly the case in open-plan houses where you are looking to create specific 'zones' within the spaces.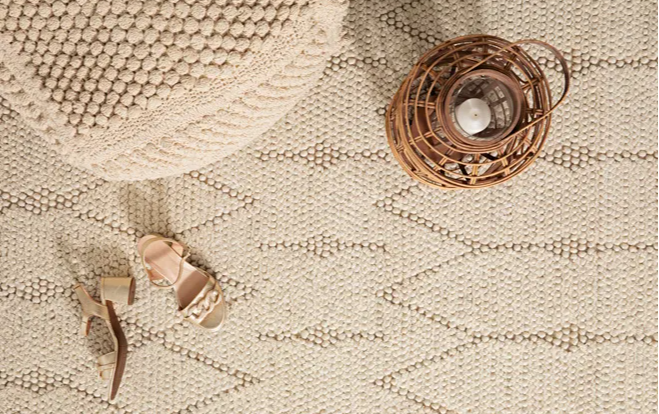 Runner
Traditionally found in hallways, other narrow spaces or bedrooms, a runner can add great visual interest while adding softness. Typically, a runner will 'run' from the front door and down the hallway, but they also work well in kitchens to define the space and in smaller bedrooms to add a little warmth underfoot when you step out of bed.